2017 REPORT
It was a sad start to the year with the passing of two of the great Cambria family. Naval architect, yacht historian, sailor and general all round good guy, Theo Rye, passed away in November 2016. Theo has left his mark all over Cambria with design work and history from his involvement since 1995. Particularly over the last 12 years, Theo had been a closely involved in all technical issues. He was always happy to help with a smile and an endless supply of humor. He is sorely missed but we are reminded of him daily as we move around Cambria. Theo passed away of a brain tumor at 48 years of age.
In February the eighth owner of Cambria, the Australian John David passed away at age 87. JD, as he was known, with other members of a Sydney consortium purchased Cambria in 1995. It was because of his vision Cambria returned to the racecourse and the public eye in 2001 at the Americas Cup Jubilee in Cowes, UK. We were lucky to have JD on board for Cannes and St Tropez regattas last year, he was in fine form and obviously happy to be back on board. At JD's funeral in Sydney the Cambria dragon battle flag provided the backdrop, a fitting display to the great man.
Following on from last year we still had some vibration about the starboard shaft. Though the alignment was now correct we felt the cutlass bearing had worn. Whilst in the ship yard prior to Antibes regatta, Will and Dave drew the shaft and replaced the cutlass, a somewhat easier task than drawing the shaft in the port as they did last year. After an antifoul job it was back into the water and off to the Antibes regatta. This time vibration free!
Voile d'Antibes
As always we kicked off the season racing in Antibes. The Big Class competition this year consisted of the 15m Mariska, Moonbeam III,
Moonbeam IV, Hallowe'en and Shenandoah. The conditions worked well for Mariska who sailed a flawless regatta, taking out both line honors and corrected time. Cambria's most exciting day was the last day which found us trying to get through the infamous Cap d'Antibes cross swell. We set the light kite to get us through a very light airs patch but just as she filled and pressured up, we struck swell from the opposite direction which immediately over pressured the light weight kite causing it to tear directly across the head! The crew did a fantastic job in retrieving the mess and keeping us moving forward. This obviously opened the door for all in our class and as the breeze filled certainly made it even more difficult to get a result. We rounded the bottom mark off Gulf Juan behind all but Shenandoah and set to work the chase. By the point of Cap D'Antibes we had caught all but Mariska and with the finish line in sight we were overhauling her. It was truly spectacular as Cambria dipped to leeward and sailed through Mariska lee as if she had parked of La Garoupe beach. It was not enough for a handicap result but it certainly showed her class after the incident with the kite. Cambria finished third on corrected time over all behind Moonbeam III and the winner Mariska.

Argentario Sailing Week
After three years Cambria returned to Porto Santo Stefano for one of the best sailing events on the program. The sea breeze in the bay makes this place a mekka for sailing events. This year we had Moonbeam III and Hallowe'en to sail against. The courses covered the bay and the wind conditions were stable. Cambria had fantastic starts each day and took line honors on all three days, unfortunately not by enough to defeat little Moonbeam who won the event. Moonbeam III first, Cambria second and Hallowe'en third. We were joined this regatta by some new face, all who have had an interest or a direct involvement with Cambria over the years. It was magic sailing with them and sharing stories on the foredeck. It is such a special part of the yacht to attract such a diverse group of people who immediately enjoy each others company.
Barcelona Puig Classico
Next stop Barcelona. This was the first time Cambria had participated in the Puig event, now in it's tenth year. Traditionally a light wind event we were looking forward to new experiences in the historic Catalan capital. Our usual competition, Moonbeam III and IV joined us along with the three masted schooner Xarifa. We also discovered schooner Invader was based in the Real Club Barcelona and would be our neighbor for the event, though not race. The forecast was for fresh breeze each day and with two generations of the owners family on board it was looking to be a fantastic event. Thursday, day one, averaged 20 knots. Cambria was all powered up and twice we had our runner girls floating off the side only to be washed back on with the next wave. Down wind with the kite was particularly exciting and fast but with such short legs it was over very quickly. Fridays conditions were a copy of Thursday, whilst Friday eased a little. Cambria took line honors on all three days but again was unable to shake the competition by enough time to affect the podium. The results saw Moonbeam III first, Moonbeam IV second and Cambria third.
Cruising this year saw us back in the beautiful turquoise waters of Corsica and Sardinia. We have cruised this area extensively in the past, but this year we were particularly fortunate with the weather and managed to anchor in places usually in accessible along the west coast of Corsica. As the weather changed we managed to catch the westerly and enjoy a magnificent sail from Adjaccio to Porto Cervo, averaging 11 knots in basking sunshine. From here we continued down the east coast of Sardinia to the Bay of Orosei.
Monaco Classic Week
Every two years the classic fleet, including motor yachts, rendezvous in Monaco for the Monaco Classic Week. The spectacle is incredible and makes up for the general lack of wind. This was the first time Cambria had visited the new club in Monaco where she has been a member since 2004. The racing unfortunately was quiet with very light breezes both Thursday and Friday. This again suited Cambria who sailed short handed and managed to take both line honors and handicap wins. Saturday unfortunately was a mistral and racing was cancelled. The end result was a win overall for Cambria her first this season.
Cannes Regate Royales
The last Panerai event of the year. Cannes is traditionally the largest strictly classic regatta fleet. With 10 yachts in the Big Boat Class, there is always excitement on the start line! The fleet consisted of: Cambria, Mariska, Tuiga, Elena, Hallowe'en, Sunshine, Germania Nova, Moonbeam III, Moonbeam IV and Aschanti IV. Cambria had a fantastic event, particularly against the smaller yachts as conditions again suited the smaller boats, winds ranging from 8 to 18 knots. Our main competition in real terms is with Elena, the giant Herreshoff schooner. Over the last few years there have been many tight tussles between the two. This year however Cambria showed her a clean transom each day, and though losing to Mariska again on handicap, Cambria managed a well earned second place overall. In this fleet certainly a great achievement. Hallowe'en took out the overall winner for 2017 in the Big Boat Class with Cambria second and Moonbeam III third. This was a great result for the Hallowe'en team who have been great competitors over many years, their first overall trophy. For Cambria it shows her consistency as she competed in one less regatta than the other yachts and still came in second.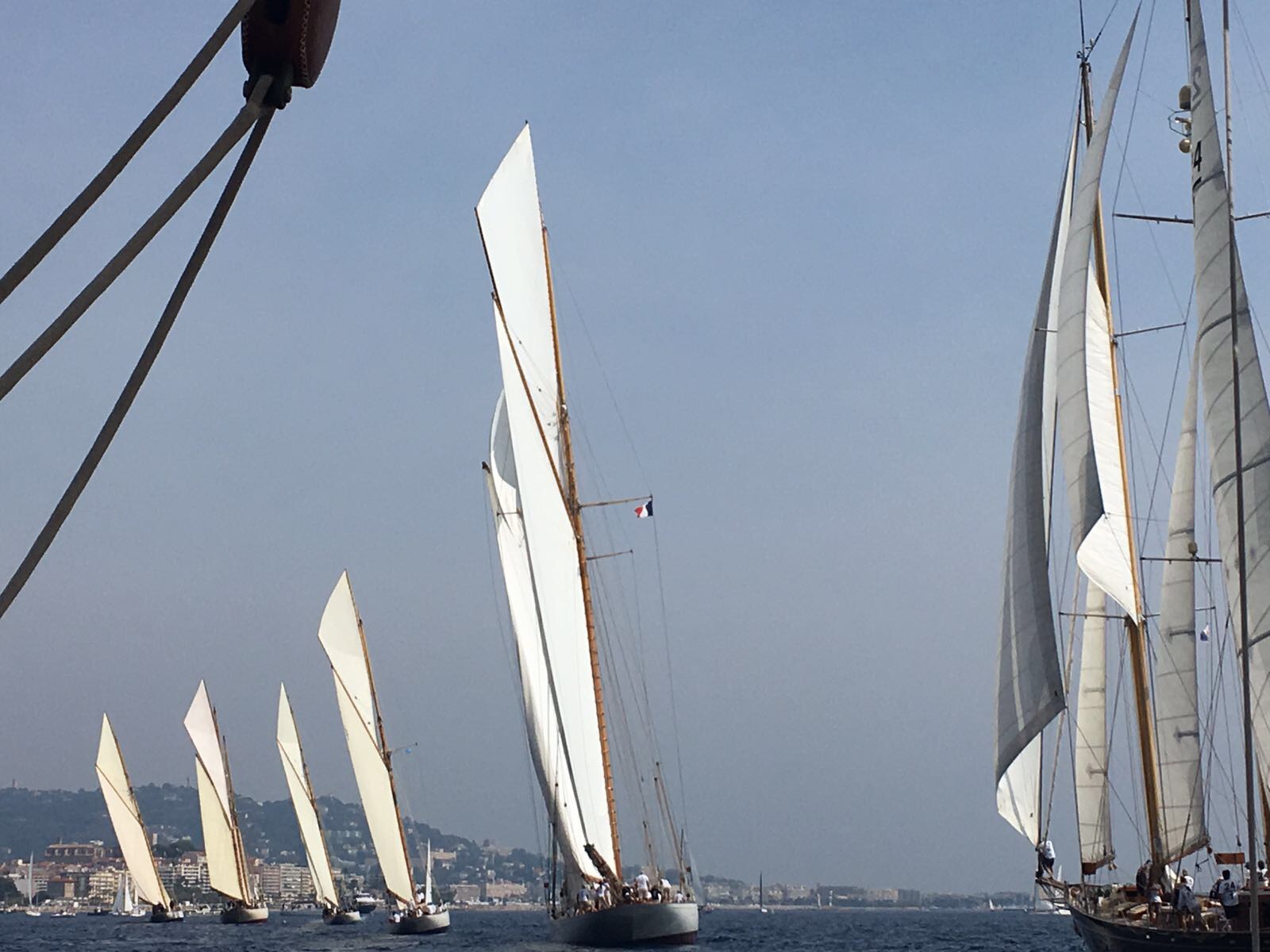 Voile Des St Tropez
A very difficult year in St Tropez this year as the autumn solstice played havoc with the forecast and the fleet. Cambria was forced to abandon two races as the wind exceeded our rig choice. Day one was forecast to increase to 20 knots from the west. We had reefed and flew the small jib and staysail, by the time we arrived at the first mark the wind was a consistent 30 gusting 35knots. The earlier classes had gone through but in the gybe some crew members had been washed over board so we were approaching a mark at 12+knots which had people swimming around it trying to be recovered. Elena arrived first and also proceeded to drop a crew member over the side. By this stage many sails had blown out, gaffs snapped and little Eva, the Fife 6m, lost her mast. At this stage we headed to wind to drop sail and managed to get a line around the propeller. We retired and limped back into the gulf under staysail to clean up the mess!
Wednesday, day 2, by stark contrast was beautiful, and Cambria managed to retrieve some face by taking line and handicap honors.
Friday was also a fun day on the water but with slightly more breeze than Wednesday suiting Elena who took line honors over Cambria. Saturdays forecast went the same way as Tuesday so again Cambria retired. It was a difficult regatta and frustrating but after walking the docks and witnessing the damage of the week, I think the right decisions were made, everyone and Cambria still in one piece ready for the next event.
Particular thanks go out to the race crew for the year: Jean Michel, Fleur, Pete Mc, Ezmerelda, Dietrich, Leonard, Alex, Steve J, JLVB, Francis, Christophe, Patrice, Tim J, George M, Woody, Lachy, Alex Fr, Matthew T, Oliver, Leo, Angus, Kjell, Bill, Eric, Jaques, Jud, Jerome, Nicky, Fi, Frano, Lucas, Andy V, Andy B, Laura, Colin, Scott, Tubby, Chris, Giles and Hannah
Special thanks to our full time crew: Dave Hambly, Will Story, Nicola Conron, Rhodri Jones, Lucia Exposito Bagshaw and Anna Barkham. Will, after two on board is moving onto his next challenge and we wish him all the best, he has certainly been an asset onboard and will be missed.
This year saw the ingress of a new generation on board Cambria. It is exciting to watch new younger sailors taking to the classic sailing fleet. It ensures the laughter, happiness and pure joy of sailing this spectacular yacht will continue into the future.
Capt. Chris Barkham
SY Cambria